Blackie's Grand Adventure
---
School children playing with Blackie in Powell, Ohio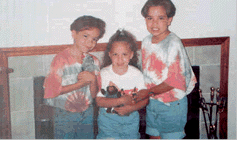 ---
Blackie is having a wonderful time in New Hampshire
Hi Linda and Kids!
Blackie here again! I finally got a chance to sit down at a keyboard here and write you some email from Madbury, New Hampshire.
I think I've stayed longer than planned, here at the Barton's, but I've had a wonderful time. I've been on a camping trip that was absolutely incredible. It was at a lake in Maine called Sebago. I wonder if you can find that place on the map?
Have you ever gone to sleep with the sound of bullfrogs as a lullaby or Woken up to the sound of a loon calling to its mate across a lake? It is such a peaceful sound.
I went camping again to a place in Warren, New Hampshire. I saw something really neat in that area. It is call the Old Man On the Mountain. The Old Man is a natural rock formation that is the state symbol for New Hampshire. It looks like the side view of a man right there on the side of the mountain!
I better go now. I have so much to right in my journal and I have to get packed for my next host family. Maybe, Linda will be able to tell me where I'm off to next?
Lots of Love and Bear Hugs (what other kind of hug would I give),
Blackie
---
Blackie has been visiting in Michigan's Upper Peninsula
Blackie had a great time visiting Michigan's Upper Peninsula. He loved Lake Superior, and collected some rocks at the beach. He saw more boats, and sailboats, and relaxed in the sand. He played at parks, ate ice cream cones, and went to the International Food Festival and sampled all kinds of different foods. Blackie loved the 4th of July fireworks and parade. He also enjoyed a visit to the library, and reading books every night before bed. His favorite was Good Night Moon, and he will be bringing it with him to read with his next host families. He has some things packed in his little knapsack, and we went shopping, and he picked out a Cowboy outfit to wear since he and Valentino are going to Montana. It was fun having them come to visit! Take care Blackie... we will miss you!
---