Intervention Center
Miami, Florida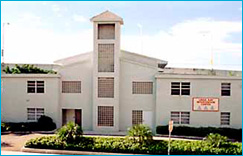 The Center opened in 1993 to be used by the University of Miami Department of Psychology to conduct research programs involving infants prenatally exposed to crack cocaine. A number of related programs have been added over the years.
These infants are enrolled during the first two months of life and are served until they are three to four years old and are able to enter a Head Start program with the Miami-Dade Community Action Agency. During the time the children are at the Center they receive primary medical care, social services, a nutritional supplement program and access to other community services as well as the Research Programs listed below.
What are the benefits of the Intervention Center?
This new research curriculum, developed by the University of Miami's Psychology Professor Dr. Keith Scott, along with his Staff, covers most aspects of child development including:

fine and gross motor skills

language and cognitive skills

social and emotional development

self help techniques
Dr. Keith Scott, while retaining his position at the University, has served as Executive Director since the inception of LRIC until 2008, when he retired, although he still serves on the Board of Directors. Dr. Lynne Katz, the Assistant Director, succeeded Dr. Scott and has enlarged the Mission and dramatically Administered Programs at the Linda Ray Center. The programs are now serving a total of 180 infants each year, that are enrolled in the programs and additionally extends some services to their siblings and parents. Dr. Katz works closely and successfully with the Judicial System of Miami-Dade County.
This program is considered a national pilot research model and the 'Outcome Curriculum' has been made available nationally and instituted in other Cities.
One of the additional benefits of this new research program is the development of a new generation of professionals and teachers that are being trained to meet the needs of these special children.
Ninety per cent of the children that have been enrolled are now, after graduation from our program a part of the Head Start Program administered by the Miami-Dade County School Board.