Blackie's Grand Adventure
---
Blackie had a great time with Beverly and the kids at North Ward Elementry in Clearwater, FL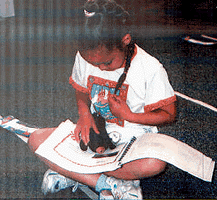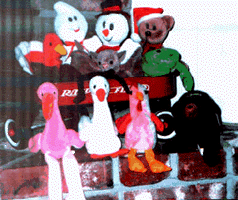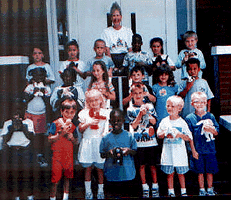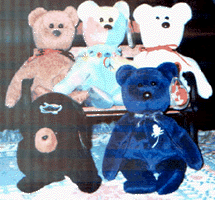 Blackie has arrived safely at our school. He came late this afternoon. Since today is Friday and the children haven't an opportunity to enjoy him, he will visit our class Monday and Tuesday (May 18 & 19). This weekend Blackie will visit the Clearwater/St. Petersburg area and report on his weekend adventures. Tuesday after school he will be mailed to the next location on his trip.
Thanks again for including us, our class is really excited to participate and to introduce Blackie to their Beanie Baby friends. One child has already said that his twin is in our classroom as we have a Blackie too. We have also adopted a one-eyed Peanut, thanks to the generosity of a local card shop that supplies us with missing or damaged hang tags or other less than perfect Beanies. Having these "special" Beanies has generated a lot of good discussions in our classroom. We will report to you later about what Blackie is doing, where he goes, and how he likes it.
Blackie has had a wonderful time visiting the boys and girls in our kindergarten class. He first spent the weekend at home with me, helping me with my school and paper work. He also enjoyed spending time with all my Beanie Babies. He especially liked visiting with Peace, Valentino, Cubby and Princess (a recent birthday present). At school he got to participate in reading/writing workshop, lunch, outdoor activity, indoor activity and writer's workshop. He thought kindergarten was fun but a lot of work. He really liked resting and watching a movie with the childrenand the other Beanie Babies in the class.
Today Blackie, all the children and our Beanies went outside for pictures. We are sending one with this email. Blackie is in the front with his new Devil Rays baseball helmet. Since we now have a pro baseball team we thought Blackie would like a souvenir. He also got a Devil Rays commemorative pin. All souvenirs and pictures will be sent separately, as I have to get the film developed.
We enjoyed our time with Blackie and look forward to tracking his future adventures around the country.
Sincerely,
Beverly Lemon & kindergarten class
North Ward Elem.
Clearwater, FL
Thank you Beverley Lemon and the North Ward class for participating in Blackie's Grand Adventure
Linda
---
Blackies visits St. Augustine, FL
Hello everyone,
This is just a short note to let you know Blackie has arrived at our house in St Augustine, Florida. Blackie is a little homesick. He said he missed all his friends in Coral Gables. After he rested a bit we began taking him to some fun places to cheer him up. After visiting thehistoric fort downtown we took him to the beach where he loved getting some sun. He said to tell you all he loves you and misses your hugs and kisses.
We will keep him busy and he will be very well taken care of. Tomorrow he will visit a second grade class and maybe even the alligator farm. He also gets to be at another Birthday Party. Mine!!! We will have hamburgers and hot dogs and eat outside , where bears like to eat most. I'll be sure and give him some honey on his cake.
I will talk to you later!
Sandi and the Gunn Family.
---
Blackie was in Marquette, Michigan for a few days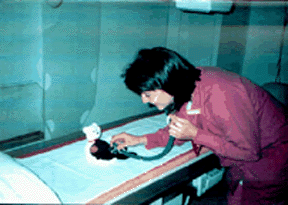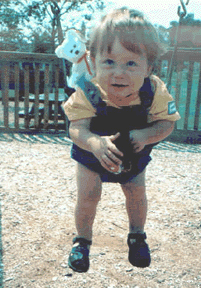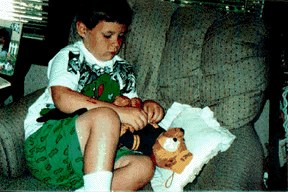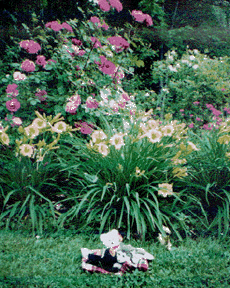 As soon as Blackie arrived in Marquette he had a physical to be sure he was in top condition for his visit. Of course, one of the first to play with Blackie was the youngest and then big brother had to get into the act. Blackie enjoyed being outside with the beautiful flowers.
Blackie arrived in Marquette today, and enjoyed seeing an ore boat on Lake Superior, going to Kids Kove playground, eating a Pastie, and meeting new friends. We have lots of plans for his next couple days here, and he is a great house guest.
He and Valentino are doing just fine, and said to say hi to all their previous hosts, and to let everyone know that they are having the time of their lives! Take care!
MAR
---